Lionel Messi has already caused a stir in La-La Land, as an MLS stalwart placed the Inter Miami ace above Zlatan Ibrahimovic after just one month stateside.
The Argentine arrived at Inter in July and has already transformed the struggling side's prospects.
Inter are now undefeated in 10 matches with Messi, and romped to victory in the Leagues Cup while also reaching the final of the US Open Cup in the space of a few short weeks.
READ MORE: Lionel Messi at Inter Miami: Goals, assists, results & fixtures in 2023
Leo has also helped himself to 11 goals in that same period, and Los Angeles FC star Carlos Vela believes he has already surpassed a former MLS superstar with his exploits so far.
"Zlatan did dominate, but he didn't win anything," the Mexico international, who endured an unsuccessful spell with Arsenal prior to moving to Los Angeles, told AS ahead of Sunday clash with Inter.
"Messi has won in less time, they are not things that can be compared because they are different players, in different situations.
"I would be surprised if [Messi] played badly. It doesn't matter where in the world, when you're the best player, whatever league you go to, you're going to be fine.
When you are the best, it doesn't matter where you go.
"The question that would surprise me is if he doesn't score goals, or if he doesn't make plays, that would surprise me."
Messi stands in solidarity with striking workers
The ex-Barcelona and Paris Saint-Germain has also been winning new friends before even arriving on the west coast.
Messi and Inter were praised by the Unite Here Local 11 hotel workers' union for refusing to cross picket lines at the Fairmount Miramar hotel, whose employees walked out on Wednesday in a pay protest.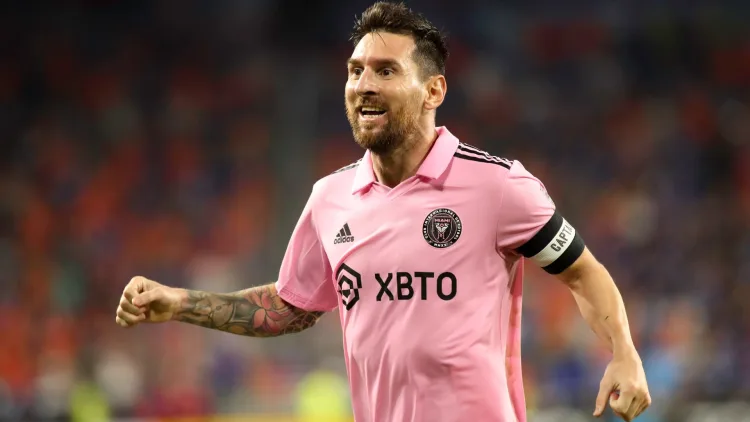 "The players union was very helpful when they learned about the dispute," Maria Hernandez, communications associate Unite Here Local 11, said in a statement.
"The players themselves really wanted to do the right thing and stand with the workers. We are very grateful. The workers are going to send them some shirts, to thank them for their solidarity."
The decision was also supported by the MLS Players' Association, which stated: "The MLSPA is proud to stand with the striking workers at the Fairmont Miramar and other LA area hotels, and we applaud the decision by MLS and Inter Miami to change hotels this weekend.
"We urge all of the hotels to reach fair contracts with their workers ASAP."