Fabrizio Romano has revealed that Erik ten Hag isn't the only one disappointed by Jadon Sancho's Manchester United antics.
The England winger remains banished from the Red Devils first-team squad after publicly calling Ten Hag a liar in a now-deleted social media post. The Dutchman claimed that Sancho had not been selected for United's 3-1 loss to Arsenal due to his training performances, to which the 23-year-old took exception.
Sancho fired back that he had been made a 'scapegoat' and that what Ten Hag was saying was 'completely untrue,' which prompted the manager to exile the €85 million man from his squad, with Sancho currently training alone.
READ: Man Utd were in 'POLE POSITION' but MISSED OUT on wonderkid – Romano
The ex-Borussia Dortmund star was recently spotted watching Man Utd's U18s train at Carrington shortly before the first team's embarrassing defeat to Brighton and it appears that the chances of Sancho featuring for the Red Devils again look slim after Ten Hag stated that his absence is a chance for players who didn't have 'so many opportunities.'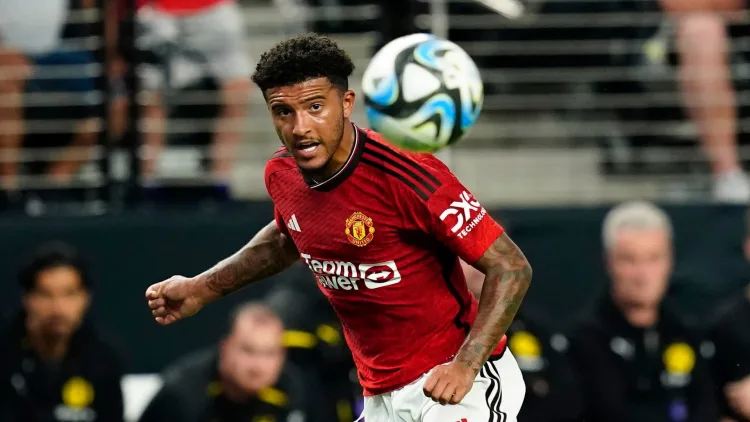 What did Romano say?
Fabrizio Romano has now revealed that many people at the club have been left exasperated by Sancho since his arrival in 2021. "For Jadon Sancho, the situation is very tense," the Italian said on his YouTube channel.
"It's not just with Erik ten Hag but also with part of the coaching staff. They had different expectations [of] Jadon Sancho – it's about the attitude, it's about the performances, it's about how he's training."
READ: Man Utd, Chelsea and Newcastle get Caicedo warning over Toney transfer
"So, they wanted to see something completely different and they were not happy at all with his public answer after Erik ten Hag's statements after the Arsenal game."
"On Sancho's side – we also have to respect the player's side – he believes that he's training at [the] best level and that probably some of these famous rules at Manchester United are [applied] in [a] different way for different players and so Sancho feels like 'it's always on me but with some other players it's not always the same' and he insists that he's fighting for the badge and is doing his best for Man Utd."