Julian Alvarez may not be the greatest of Manchester City's stars, but in the long term, he may just become the most important.
City fans might not want to consider the possibility, but Kevin De Bruyne is now well into 30s and cannot go on producing world-class displays forever, while there remains a lingering uncertainty over Erling Haaland's commitment to the club in the long term.
Alvarez offers a potential solution to both problems.
EXCLUSIVE: Man City still want Reece James despite new Walker contract
He has operated expertly in support to the centre forward in the absence of De Bruyne due to an injury that will keep him out for months, while he is also a capable goal scorer regardless of which role he is deployed in.
That second fact became abundantly clear as he hauled City back from behind against Red Star Belgrade on Tuesday in the first match of their Champions League defence to win 3-1.
While questions will inevitably be asked over the goalkeeping for Alvarez's second goal, a free kick from the left that should have been comfortably fielded by the visiting custodian, the quality of his finish for the opener was undoubted.
MORE: Five Champions League hidden gems to watch this season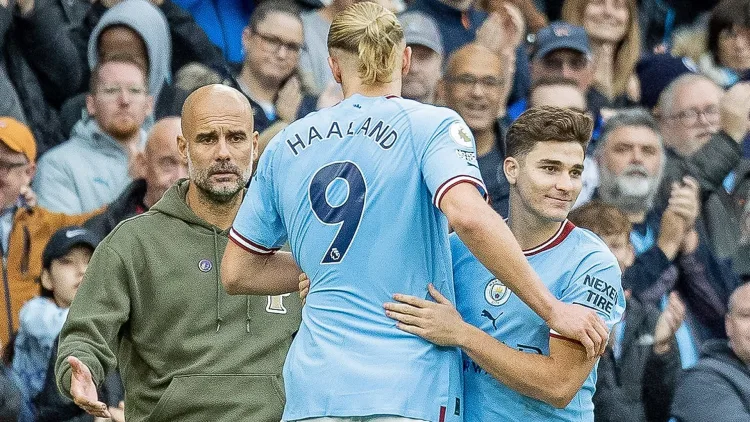 Was transfer fee did Man City play for Julian Alvarez?
City are not typically a team that picks up transfer bargains, but in the form of Alvarez, they have undoubtedly managed to do so.
Singed for just €21 million from River Plate in 2022 before being sent immediately back on loan to the Argentine club, the 23-year-old does not feature in City's top 25 most expensive players of all time – and he is not even close to breaking into that bracket.
Indeed, compatriot Sergio Aguero, signed a decade before Alvarez, props up that list having arrived for €40m – nearly twice as much as new boy.
City's aim is not to necessarily to profit from their players, but Alvarez, were he sold, would leave for far more than he arrived for. His Expected Transfer Value (xTV) sits at €40m and will rise again in October after the back of some well-deserved additional playing time.
He has been linked to Real Madrid as a possible alternative to Kylian Mbappe next summer, but he is a player who it increasingly appears City can ill afford let go.
Alvarez's performances are giving Pep Guardiola a problem. His displays are such that he deserves game time, but how does he fit in when both Haaland and De Bruyne are available?
It is a problem that the Man City boss will welcome when ultimately it faces him.