Three months after Manchester City claimed their first ever victory in the competition, the UEFA Champions League is back, with the group stages kicking off this week.
Of course, multiple qualifying rounds have already been completed in 2023-24, with Young Boys, Galatasaray, Braga, Royal Antwerp, Copenhagen and PSV sealing their group stage place via this method, but the competition proper is about to get underway.
Households names such as Kylian Mbappe and Erling Haaland are expected to feature prevalently yet again, but those two were once hidden gems plying their trade for Monaco and RB Salzburg respectively.
READ MORE: Champions League top scorers 2023/24: Can Haaland triumph for a third time?
This year promises to be another enthralling Champions League campaign, but who are the next young talents set to follow in the footsteps of Mbappe and Haaland on their way to greatness?
FootballTransfers lists five hidden gems to watch out for in this season's Champions League.
READ MORE: European Assists King 2023/24: Salah one of four early leaders
Arthur Vermeeren – Royal Antwerp
Arthur Vermeeren is an 18-year-old central midfielder who has already racked up 43 appearances for Royal Antwerp's senior side, with one goal and four assists during that time.
The young Belgian has been linked with a move to Barcelona and he is reportedly 'aware' of the Blaugrana's interest in his services. Given Antwerp will face Xavi's side twice in the group stages, Vermeeren will be eager to impress.
Manchester United and Newcastle have also scouted the midfielder, and he'll be provided with the platform to shine on the European stage.
His positional awareness and press resistance are both of the highest calibre, so watch out for Vermeeren in Group H.
Takefusa Kubo – Real Sociedad
There's certainly a case that Takefusa Kubo can't still be classed as a hidden gem considering the fact he used to be on Real Madrid's books and has been shining for Real Sociedad for over a year, but his name is not yet a household one.
Takefusa Kubo is going to light up this season's Champions League group stages ⚡️ https://t.co/6yNRz306wD

— Cameron Smith (@_CameronSmith10) September 18, 2023
However, by the end of the Champions League group stages, that will have changed.
The Japan international already has three goals and one assist in five La Liga matches this season and he was a constant thorn in Real Madrid's side during their meeting on Sunday evening.
Kubo is a dribbling machine down the right wing and he is now Sociedad's main man in attack. Furthermore, he's beginning to add final-third consistency to his immense ball-carrying ability.
If Sociedad are to progress to the knockout stages, you can be sure that Kubo will have played a starring role.
Karim Konate – RB Salzburg
RB Salzburg have a habit of producing elite attackers and Karim Konate could be the next off the production line.
The 19-year-old has taken Benjamin Sesko's place as Salzburg's starting striker, following the Slovenian's move to RB Leipzig, and has already netted six goals and provided two assists in eight matches so far this campaign.
He is the most promising Ivory Coast youngster to emerge in years, with his penalty box movement and physicality both of the highest order.
Salzburg are always an entertaining side to watch in the Champions League and Konate will be key to their hopes.
Mats Wieffer – Feyenoord
Mats Wieffer is well on his way to becoming one of Europe's best central midfielders, and the fact he already has four senior Netherlands caps is testament to that.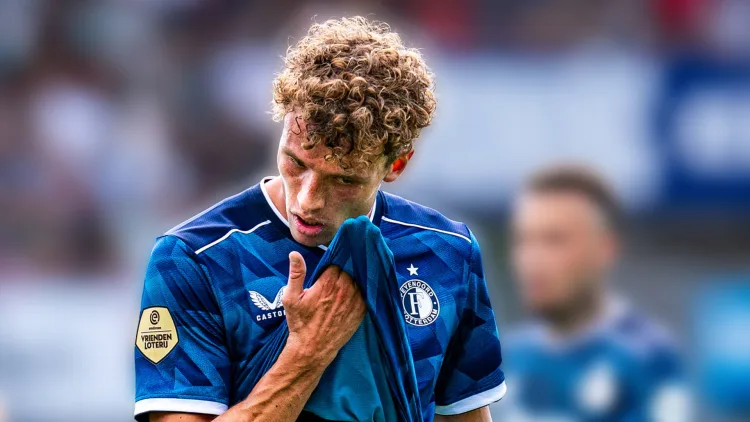 The 23-year-old was briefly linked with a summer move to Arsenal, but he remains a Feyenoord player for now. His tactically acumen is elite and he is developing into a world-class deep-lying playmaker.
As a profile, Wieffer has it all. He has already scored two Eredivisie goals in just five league matches in 2023-24 and he combines that goal-scoring eye with a huge volume of progressive passes and carries, as well as the ability to break up play in the defensive third.
Wieffer will make his name known across the continent during this Champions League campaign.
Georgiy Sudakov – Shakhtar Donetsk
Last season, Shakhtar Donetsk's key Champions League man was Mykhailo Mudryk and weeks after their group stage exit, he sealed a €70m move to Chelsea.
To suggest the same will happen to Georgiy Sudakov is a stretch, but the 21-year-old Ukranian is still a huge talent.
Typically operating as an attacking midfielder, Sudakov is a real danger in the final-third, combining an eye for goal with fantastic progressive carry numbers.
He netted three goals in this summer's U21 European Championships and has scored once in three Ukrainian top flight matches so far this season.
Sudakov isn't the biggest name in the Champions League group stages, but he could surprise a few with his performances on the biggest stage.