Real Madrid are formulating a new plan that will allow them to sign PSG attacker Kylian Mbappe before his contract expires next summer, according to reports from Spain.
Mbappe may have returned to action with PSG by scoring three goals in two appearances, but his long-term future continues to tend towards Real Madrid.
MORE: Ancelotti sends Mbappe a Real Madrid transfer message after Vini Jr injury
As things stand, he is out of contract with the Parc des Princes side next summer and will be able to leave for the Bernabeu as a free agent at that point.
There remains a possibility that the 24-year-old will sign a new contract with PSG, particularly after the sale of Neymar and the summer arrival of Ousmane Dembele from Barcelona, but the probability is that he will leave the club sooner or later.
MORE: PSG fans give Mbappe SURPRISE welcome amid Real Madrid transfer rumours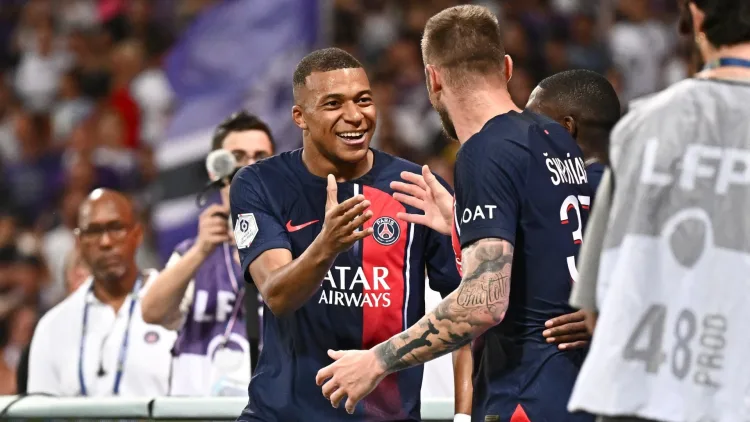 Real Madrid's new Mbappe plan
Mbappe has reiterated his desire to spend the season at PSG but Real Madrid are formulating a plan that will allow them to sign the superstar during the January transfer window, according to Defensa Central.
The Madrid source even states that a "dramatic outcome on Deadline Day would not be unusual".
Real Madrid are eager to tie Mbappe down to a contract with the club as rapidly as possible for fear of losing out on him, as they did in the summer of 2022, when he elected to stay at PSG as his deal wound down.
For this reason, they are considering a move in January, which could represent the final opportunity for PSG to cash in on the forward. This is a plan that is described by the Spanish source as "a surprising option".
However, the sale of Neymar to Al-Hilal for €90 million has gone some way to easing PSG's Financial Fair Play worries, so the prospect of Real Madrid landing Mbappe for a bargain price midway through the season looks unlikely, especially if the French side are still involved in the Champions League.