The Manchester United first-team squad are reportedly still angry about the club's decision to offload David de Gea this summer.
De Gea left Old Trafford upon his contract expiry in June and remains without a club as he continues to train alone.
The Spaniard was offered a new deal by Man Utd – which he accepted – but the club then lowered the terms of the contract and that decision led to his exit following the conclusion of the 2022-23 season.
READ MORE: Onana is not Man Utd's big problem – Lisandro Martinez is
De Gea had won the Premier League Golden Glove during his final campaign as a Red Devils player, but Erik ten Hag was keen to move him on and sign his former Ajax pupil Andre Onana as his replacement.
The Cameroon international is now at Man Utd, having joined from Inter Milan for €x million during the summer window, but he has endured a tricky start to life in England.
Onana has conceded 10 goals in his opening five competitive Man Utd games and was at fault for Leroy Sane's opener during Bayern Munich's 4-3 Champions League win in midweek.
READ MORE: 'You're paid to make saves!' – Ferdinand SLAMS Onana after Bayern HOWLER
Following that error, the Sun have now reported that many of Man Utd's first-team squad are "still seething" at the way De Gea was cast aside at the start of the summer.
According to The Sun, the Spaniard was a popular member amongst the dressing room and his exit has not been met with satisfaction by the Man Utd squad.
De Gea is still a free agent and therefore can be signed at any time, regardless of the restrictions a transfer window normally provides.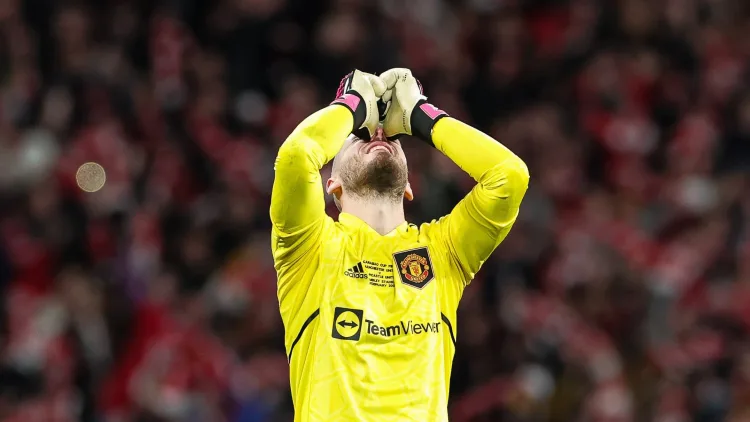 Man Utd fans have called for his return on social media, while La Liga side Real Betis are considering making a push to sign him, as per Fichajes.
Onana owns up to mistake
Following his mistake against Bayern, Onana spoke to the media to admit that Man Utd's defeat was his fault. He said: "It's difficult. In the beginning, we started very well and after my mistake, we lost control of the game. It's a difficult situation for us, for me especially, because I'm the one who let the team down."
"We didn't win this game because of me. But I'm happy for the work of the team and we just have to move. This is life for a goalkeeper. And if we didn't win today it was because of me."
"We were very good on the ball," he continued, "they didn't create any chances. On their first shot, I made a mistake. The team went down because of that mistake. We have to learn from it, be strong, it's not an easy situation but I'm happy for the comeback of the team. But because of me we didn't win."
"Of course, I have a lot to prove. It's not how I want to play. It's my worst game. It's difficult because this is a very big club. This was a big chance for us to bounce back after the situation we're facing. We have to be together and learn from our mistakes."