Gabriel Agbonlahor has blasted Casemiro and Lisandro Martinez after Man Utd's dreadful loss to Brighton.
United were outplayed by Brighton on Saturday as they fell to a difficult 3-1 defeat at Old Trafford.
This result means that United's crisis has worsened, with the club picking up just six points from their opening five matches of the season – already losing three games.
Agbonlahor was particularly critical of the performances of big-money signings Casemiro and Martinez.
He compared the Brazilian to a 45-year-old, while he called for Martinez to be dropped for Harry Maguire.
What did Agbonlahor say about Casemiro?
"Where do I start? Brighton had 659 passes at Old Trafford. More shots on target, more possession – 57 per cent. It was a stroll in the park for Brighton," Agbonlahor told TalkSport.
"I am watching the game, at no time did Brighton ever feel like they couldn't pass it out from the back.
"No matter who was pressing, they found it so easy to get through and create chances. That was like a training ground game, especially the second half.
"Casemiro looked like he was 45 running around that midfield. He had to bring him off on the 65th minute for Hannibal, a young lad, because he was that bad.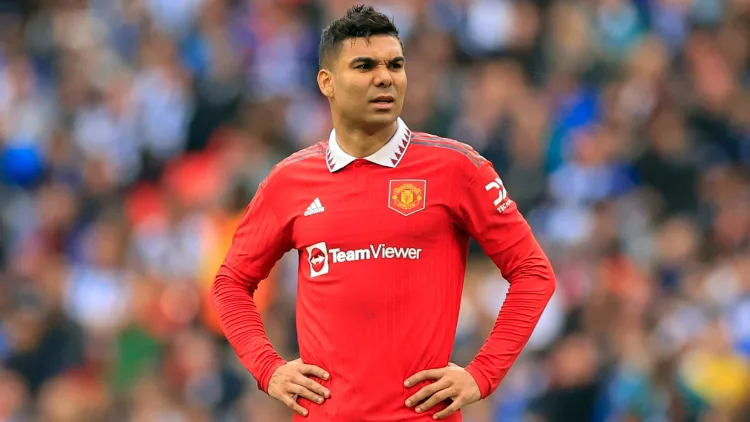 "You know what else wound me up today? Let's see the same energy for Lisandro Martinez and Victor Lindelof.
"Martinez for the Gross goal, he has tried to make a block, he's got fake-shot by Gross and scored in the back of the net.
"If that was Harry Maguire, you would not hear the end of it, 'he's terrible get him out the side'.
"Harry Maguire must be looking around that changing room now thinking, 'how am I not getting a chance in this team?'
"Martinez could not even play from the back, giving the ball away, Lindelof as well. Harry Maguire deserves to be in that team.
"So let's see the same energy, all you tweeters, whoever you are, let's see the same energy for Martinez at the back, for Casemiro, who can't get around the pitch, not just pick on Harry Maguire."