Royal Antwerp boss Mark van Bommel has broken his silence on Manchester United and Barcelona target Arthur Vermeeren.
The 18-year-old prodigy is once again catching the eye. Despite his tender years, the Belgian already boasts almost half a century of senior appearances for domestic heavyweight Royal Antwerp.
Vermeeren has two assists to his name this season despite playing mostly in defensive midfield and his overall play has attracted the attention of some of Europe's biggest hitters. Linked with Man Utd at the beginning of the year, it is now Barcelona who appear to be the wonderkid's most prominent suitors.
READ: Man Utd fans fume over club decision on Antony amid Wolves' game with Liverpool
Last season's Belgian champions could bring in a hefty sum for the sought-after midfielder, but the club's head coach, legendary Dutch midfielder Mark van Bommel, prefers to remain tight-lipped regarding the youngster's future, though he did recently hint that Barcelona's appeal is concrete.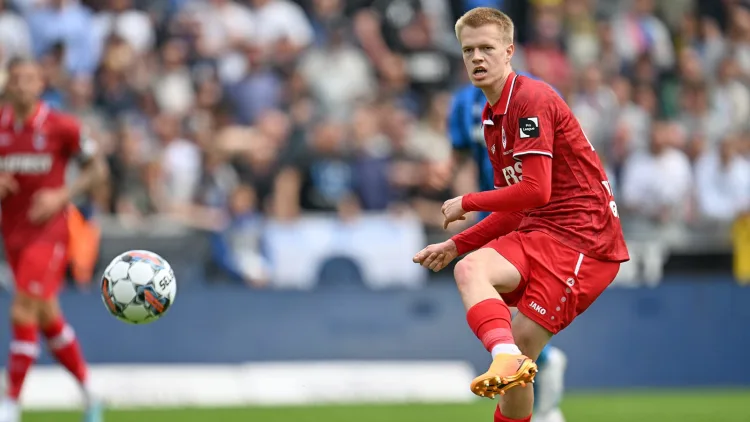 What did Van Bommel say?
Confronted with a question about Barcelona's interest in Vermeeren while away at Westerlo, a match his side comfortably won 3-0, Van Bommel responded: "Whether Xavi has asked for some information on Arthur Vermeeren? [laughs] I won't give him any information, because he would buy him immediately."
Vermeeren and Van Bommel, a former Blaugrana player, are set to meet Barcelona in the Champions League on Tuesday (September 19). "We have three days to prepare for Barcelona", the Antwerp coach said. "We will do that as we prepare for any other game. It is special because I played there."
READ: Eden Hazard's brother reveals PERFECT club for Chelsea legend
"I won the Champions League there and I played with Xavi in the midfield. That was fun. I still have some contact with the kit man. It has been 15 years so a lot has changed of course."
Van Bommel featured for the Catalan giants for just one season before swiftly moving on to Bayern Munich where he eventually became the club's first-ever non-German captain.