Arsenal's strong start to the Premier League season continued on Sunday with a 1-0 win over Everton at Goodison Park, but manager Mikel Arteta's decision to drop Aaron Ramsdale ensured the fixture did not pass without some controversy.
Summer loan signing David Raya was preferred to the England international, with the Spaniard keeping a clean sheet on debut.
FootballTransfers revealed when Raya was signed that Arteta's long-term plan is to install the 28-year-old as the club's new No.1 but celebrity Arsenal fan Piers Morgan is not happy with the decision, claiming that Ramsdale has been "humiliated" by the decision.
Premier League table: Arsenal go 4th with Chelsea down in 14th
"I don't understand what Ramsdale has done to deserve being dropped? Havertz, yes.. but Ramsdale's been consistently superb for us. Why humiliate him?" Morgan complained via X, formerly known as Twitter.
When it was put to him that Arteta might be rotating, Morgan argued: "I don't believe in having 2 top 'keepers with neither knowing who's No.1. Nothing against Raya, who is very good, but don't like the way Ramsdale's being treated."
MORE: Romano gives Arsenal contract update fans will love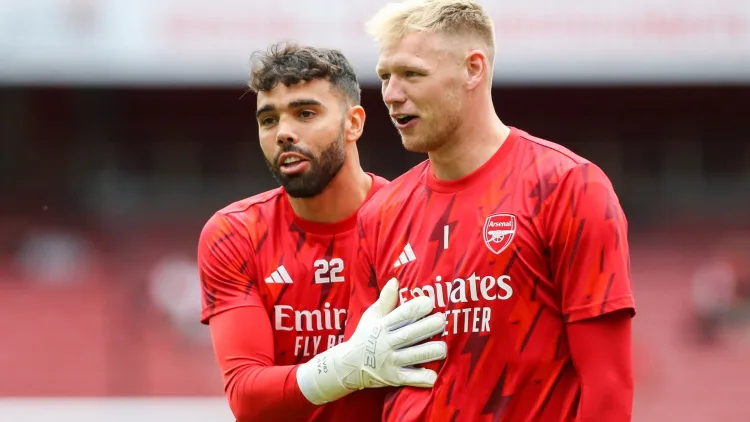 Arteta on the Arsenal goalkeeping situation
Speaking after the win, Arteta argued that the goalkeeper position should be treated more like an outfield one when asked why Ramsdale was dropped.
"I haven't had a single question on why Gabriel Jesus hasn't started," he said. "He's won more trophies than anyone, including me, in that dressing room, but they don't ask why I have not picked him.
"It's something that has been historically done like this, but I cannot have two players like this in one position and not play them. David has tremendous qualities like Aaron has, like Karl [Hein] has, but we have to use them you know.
"I'm a really young manager. I've been in this job three and a half years and I have few regrets with what I've done.
"One of them was that in two occasions, I felt after 60 minutes and 85 minutes, in two games, in this period, to change the 'keeper in that moment. But I didn't do it. I didn't have the courage to do it.
"But I'm able to take a winger, or a striker off, or put a central defender on to drop to a back-five and hold that result. We drew those games and I was so unhappy.
"Someone is going to do it, and maybe it will be *gasps*. That's strange? Why? Why not? We have all the qualities in another goalkeeper to do something when something is happening and you want to change momentum. Do it."
Arsenal face PSV in the Champions League on Wednesday, with Arteta giving little away over whether Ramsdale or Raya will keep goal.