When Manchester United hired Erik ten Hag in the summer of 2022, they expected a number of things from the Dutch manager.
In addition to creating a long overdue new winning cycle at Old Trafford, Ten Hag was expected to bring with him a modern, progressive, expansive and entertaining brand of football.
Ten Hag's Man Utd team were expected to dominate possession and the midfield with a high, aggressive defensive line, and to play passing football full of intensity. The players were expected to be total footballers in the tradition of Ajax – the team Ten Hag joined from.
READ MORE: Premier League 2023/24 summer transfers: All the Done Deals
There is no doubt that Ten Hag improved Man Utd last season and both winning a trophy (albeit the League Cup) and bringing them back to the Champions League must be applauded. It must also be recognised that things haven't been easy for him off the pitch due to controversies/scandals involving the likes of Cristiano Ronaldo, Mason Greenwood, and Antony, not to mention the chaos of the never-ending takeover talks.
But things have not improved enough and this season there has been a clear regression in results and also style of play (in only two of their five games have they had more possession than their opponents).
United now have three defeats in five Premier League games after being dominated 3-1 by Brighton at Old Trafford on Saturday.
READ MORE: Gary Neville DEFENDS Ten Hag amidst Man Utd CRISIS
Brighton manager Roberto De Zerbi has done everything that, as listed above, Ten Hag was expected to do at Man Utd.
With a far weaker team and squad on paper, De Zerbi has Brighton playing some of the most exciting and revolutionary football in all of Europe.
Some of the automatisms and patterns of play in De Zerbi-ball have even been an education even for Pep Guardiola.
"He is one of the most influential managers in the last 20 years," Guardiola said of De Zerbi in May.
"There is no team playing the way they play – it's unique.
"I had the feeling when he arrived the impact he would have in the Premier League would be great – I didn't expect him to do it in this short space of time.
"He creates 20 or 25 chances per game, better by far than most opponents. He monopolises the ball in a way it hasn't been for a long time.
"They deserve completely the success they have."
The stats back up what Guardiola said.
Since arriving at Brighton exactly one year ago tomorrow, De Zerbi's team are first in the Premier League for shots and shots on target. They are second for Expected Goals and possession (62% average), and third for goals scored.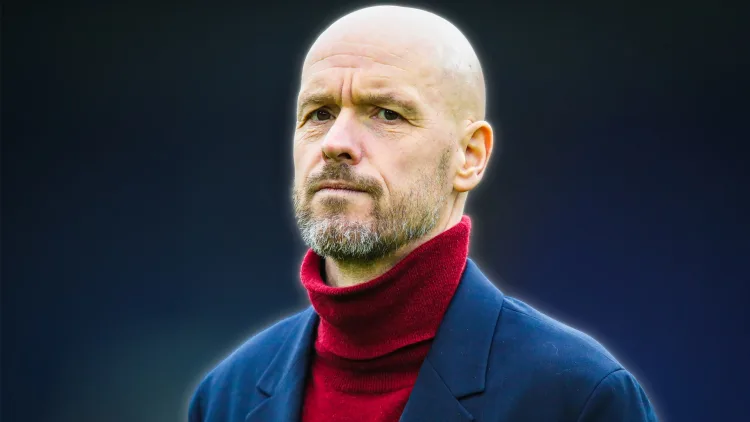 In the process, De Zerbi led Brighton to the best season of their modern history in 2022-23 as they qualified for Europe for the first time ever.
This season they are currently fourth after five games, already beating two Champions League sides in Newcastle and Man Utd.
It's a truly remarkable achievement when one looks at the players De Zerbi has at his disposal. On paper, this Brighton team should be closer to the relegation zone than to Europe.
Yet De Zerbi has beaten Man Utd twice, Chelsea twice, Liverpool and Newcastle since arriving.
Ten Hag was also expected to improve and develop young players. He has not really managed that thus far.
De Zerbi, meanwhile, has over the last few years proven to be arguably the best coach in football at maximising the potential and ability of his players. He did this at Sassuolo, at Shakhtar and now at Brighton.
Many were then sold on for massive transfer fees – most recently Moises Caicedo and Alexis Mac Allister – yet each time De Zerbi built a new successful team.
A move to one of the biggest clubs in Europe – like a Man Utd – is certain next year for De Zerbi. As for Ten Hag, he was expected to do everything the Italian has managed at Brighton.