Manchester United manager Erik ten Hag has too much power and two players could be doing untold "damage" in the dressing room, according to club legend Gary Neville.
The Sky Sports pundit, speaking after the 3-1 Premier League loss to Brighton at Old Trafford on Saturday, says that the former Ajax boss is carrying too great a share of the responsibility at the club.
In particular, Neville is concerned about the monopoly that Ten Hag has had over transfer policy, which saw the Red Devils spend nearly €200 million on Mason Mount, Andre Onana and Rasmus Hojlund this summer, as well as draft in Sofyan Amrabat on loan.
Manchester United takeover: Update as the Glazers eye £6bn sale
"Manchester United have again allowed the manager to influence the signings and that is my concern with the club. They have got no strength at the very top," Neville told his Sky Sports podcast.
"If you are talking about the best sporting operators in this country and in Europe, Manchester United don't have them, they just don't and that is my concern.
"Look, there is no hysteria, we are where we are but the Brighton game was a sobering day and I don't think many people were surprised by it.
"But the amount of money Manchester United have spent on that squad, it should have been a lot better. They've signed Onana, Hojlund and Mount.
MORE: Man Utd fans want RETURN of controversial star after Brighton loss
"Does that make them better than what they were? Hojlund has got promise, but I feel for him a little bit. He has been asked to carry the whole of the team in some ways.
"Let's see what happens but there are concerns, definitely, and concerns from the fans and concerns generally within the club. It doesn't look right at this moment in time and it needs to stabilise."
Sancho and Maguire causing damage?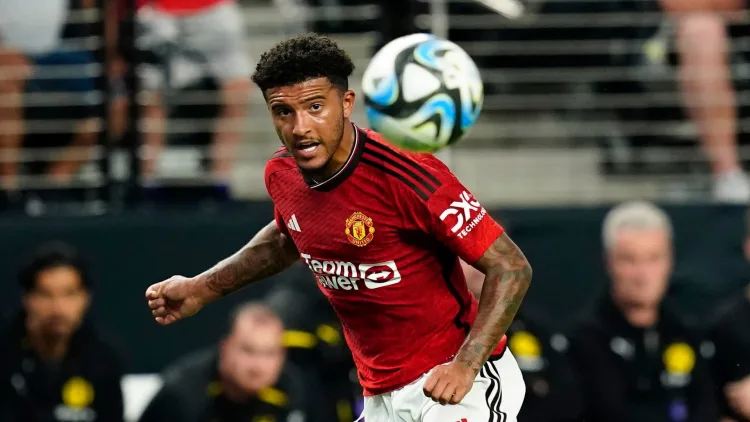 Neville continues to back Ten Hag but is also concerned that the situations regarding Jadon Sancho and Harry Maguire will undermine his leadership.
Sancho is presently frozen out after a public war of words with the manager, while Maguire has dropped down the pecking order so far that the former captain is no longer a serious factor in the ex-Ajax coach's thinking for the starting XI.
"Ten Hag will continue to keep doing what he is doing, which is following his beliefs, his values, his principles," he said.
"The only thing I would say is, how popular is Sancho in the dressing room? How popular is Maguire in the dressing room?
"This discomfort and uncertainty is being created on the inside. You have got a player at the moment, who is probably changing in the first-team dressing room but is obviously over with the academy.
"You have got Harry Maguire, who was captain of these players 12 months ago by the way, who is now almost in some ways alienated and is now third, fourth, fifth-choice centre-half.
"So, he's got some situations in there and I don't know the damage that they are having."
Man Utd face Bayern Munich in the Champions League in midweek before tackling Burnley away in the Premier League next Saturday.