Barcelona head coach Xavi has confirmed that Vitor Roque will arrive at the club during the January transfer window to increase the attacking capabilities of his team.
Barca announced in July that they had reached an agreement with Athletico Paranaense over a deal to sign the 18-year-old wonderkid, who had also been targeted by Manchester United. It had been expected that the powerful forward would join up with the squad at the beginning of the 2024/25 campaign.
Xavi, though, says that this date has been brought forward by six months for Vitor Roque, who is under contract with Barcelona until 2031.
REVEALED: Barcelona wonderkid Lamine Yamal REJECTED Premier League giants
"Deco told me that Vitor Roque will arrive in January. I don't see any issue for his transfer," he said.
"We'll see what happens in January."
MORE: Barca get tempting Manchester United transfer option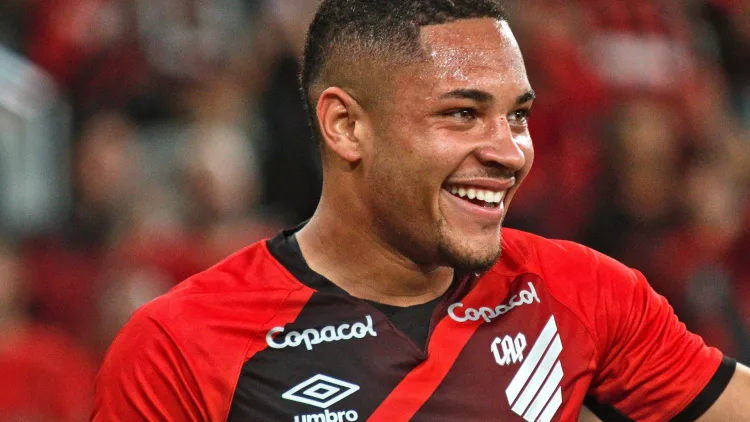 Vitor Roque with the potential to be a Barcelona star
Although still a teenager, Vitor Roque has built up an impressive CV. He has already played nearly 100 senior games, while he has scored 16 times in Brazil's Serie A in just 50 appearances. Already he is regarded as one of the leading performers in the league, as data from analytic s experts SciSports backs up.
Indeed, he has even featured for the main Brazil squad, coming on as a substitute in a friendly against Morocco earlier this year.
He also impressed with Brazil U20 at the South American Championship in 2023, winning the tournament and finishing as the leading scorer.
Relatively small at just 5ft8, he has won comparisons with the great Brazilian striker Romario, who led the country to the 1994 World Cup.
It may be too soon to expect him to challenge the likes of Robert Lewandowski and Joao Felix for a starting spot at Camp Nou, but there is ample evidence to suggest that he has the capacity to one day become a star for Barcelona, and if a January transfer does indeed materialise, he would surely benefit from the willingness of Xavi to trust his younger players.